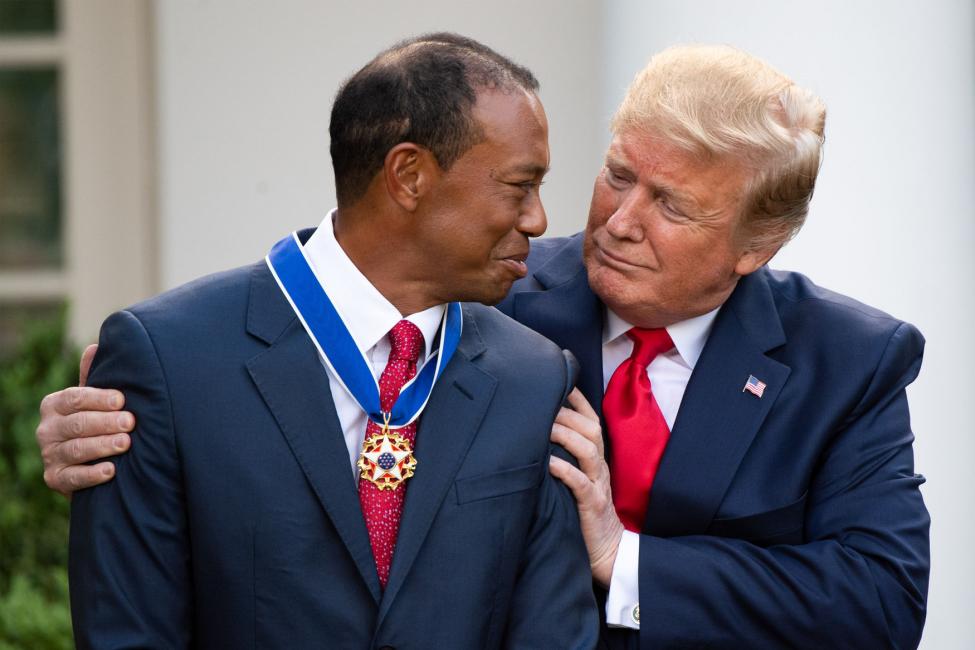 This week, President Trump bestowed the Medal of Freedom on Tiger Woods. Meanwhile, Tiger just recently showed that he is still playing at the highest levels of the sport. The medal is usually reserved for people who have long retired as a kind of lifetime achievement award. It's a clear attempt to distract the voting pubic from the Russia inquiry, The White House's refusal to abide by the Constitution, Trump's earlier misdirection attempt via the China tariffs.
But that's not why I am talking about this. This was not anywhere near the biggest news story last week. A president awarding a medal is, almost by definition, not news.
Except in this case, it's Tiger Woods, whom I've always had a bi-polar relationship with. Ok, it's a one-sided relationship, since obviously Tiger does not know me, but still… On the one hand, Tiger is the greatest golfer of all time. Period. I don't care if he never gets 18 majors like Jack Nicklaus, and I also don't want to hear any comparisons to the spate of younger golfers who the PGA attempts annually to bring to the fore as "the next Tiger". I don't even watch golf on TV if he's not playing. But on the other hand, he's had a tenuous relationship with his blackness for some time, from his insistence on considering himself Cablinasian even though as Colin Powell said, black people in the US don't get to choose. Then there were the pictures of his women friends, who could all have been related they looked so much alike.
I am over all of it. Tiger, we're good, man. But now there's Trump. I spent part of last week trying to figure out what Tiger is thinking. He must know he's being used as a news cycle distractor. Does he not care. At the end of it, I think he is just helping a friend. As I recall, Trump was never one of the ones to pile on a few years ago when Tiger was having his own difficulties. In that sense, I guess I understand, and even begrudgingly respect it.